5 Reasons Why A Bollywood Buff Would Love Batman VS Superman
I have been a Bollywood freak, fan, follower and buff (no matter what you may call me). When I watched Batman vs Superman, I had literally no expectations. From reviews I got to know that some literally thrashed the movie whereas others (very few) managed to like it. Anyway, I even then tried to become a Dare-Devil and bought the ticket to watch the most awaited movie worldwide. And I loved it. In fact, let me put it like that "I LOVED IT" all in capital and bold! Why? Simple, I am a Bollywood lover, pay attention to the details please! Here's why Batman vs Superman is my favorite movie:
The Revenge Is The Key For A Bollywood Fan:
The first scene of the movie ended with revenge and vendetta from within. Batman looking up in the sky, watching Superman with high-voltage intensity of hatred as his beloved died because Superman was heedlessly fighting with baddies and in that the entire building collapsed resulting the death of Batman's loved one. Poor baby wants to take revenge and bring down superman. Exactly like in Bollywood movies a kid sees his father being murdered and then he waits to brow old to kill the killer!
Transform Into An Unrecognizable You, Just Wear Spectacles
The best way to transform from one person to another in Bollywood movies is to wear spectacles. Just like Shahrukh Khan did in Rab Ney Bana Di Jodi. Similarly, no one seems to recognize Superman when he works his ass off as a journo by wearing spectacles. Very original and lovely idea! (Pun with "f" intended).
The Mom-Factor Is The Real heX Factor:
2 superheroes ruthlessly fight against each other but the moment the common point comes to highlight they become an alliance, that too with sharing jokes. Maartha – The Mom… unites both the power-puffed figures and they start the battle with lunatic villain with élan. Exactly like how "Mere Karan Arjun Ayenge" united the two mega Khans of Bollywood to kill Mugambo-like Villain.
Evil Lunatic Villain Is Wow Factor
Bad Man is the backbone in a Bollywood movie. The cherry on top is making him crazy and witty. That's a perfect formula for a blockbuster villain. Similarly, in Batman vs Superman, the villain looks like imitating Shahrukh Khan, believe me and watch both of them act for 5 minutes. The charms and sweetness which Lex had, Shahrukh plays on same.
Batman messages "where have you been, all this time"; reminds me of "Tussi jaa rahay ho, tussi mat jao" from Kuch Kuch Hota Hai and Wonderwoman appears from nowhere. But the way she appears, half of the audience doesn't want her to leave the screen – she's hot! The surprise package is always drizzled in the climax in Bollywood movies.
Let One Die In The End – Sholay Teaches!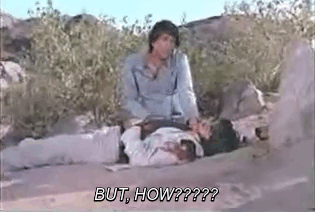 Remember Sholay? If Amitabh wouldn't be dead in the end, do you think Sholay could have been such a hit? Or Would Amitabh be able to remembered for Sholay? Nah! Likewise, explore who leaves you all alone in the end and leaves for another journey…
Batman Vs Superman is a brilliant film. Go watch it with your loved ones. It will help you strengthen family bonds and will also guide you how to cancel flights and come back to loved ones!